'79 GANNON GRAD DONATES $1 MILLION TO CREATE CYBER LEARNING CENTER
Gannon University
09/30/2019
Pierre McCormick's family has helped build Erie for decades. Now, the 1979 Gannon University graduate is helping to build the future for Gannon by lending his support to the Institute for Health and Cyber Knowledge, or I-HACK.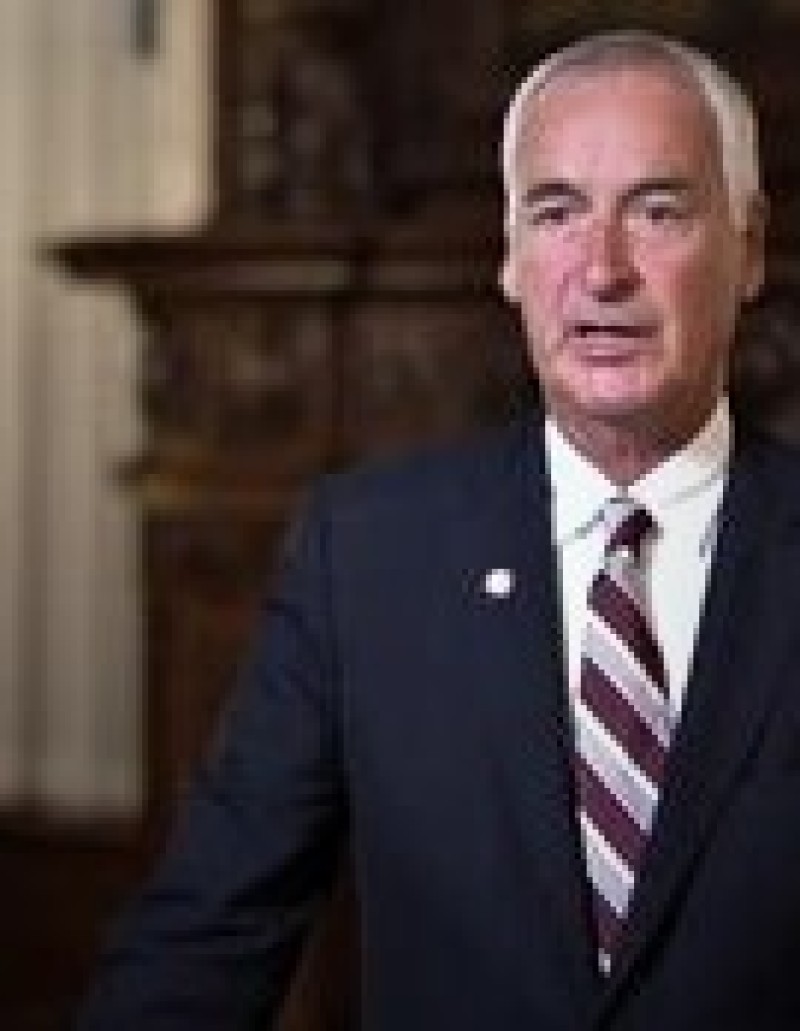 Gannon University announced today that McCormick is donating $1 million to the university to create the Pierre McCormick Cyber Learning Center. This center will serve as the academic heart of the I-HACK, which will be in Knight Tower on West 10th Street.
The Pierre McCormick Cyber Learning Center will house the university's new cybersecurity and cyber engineering programs throughout the building's second floor. The center will include faculty offices and classrooms as well as the Cyber Hacking Lab, Cyber Defense Lab, Internet of Things Labs and open collaborative innovation spaces. Initial work on the facility is expected to begin within days.
"The I-HACK and the cybersecurity initiative is absolutely critical to the future of Gannon, and equally as important and critical to the future of Erie, Pennsylvania," McCormick said in a message recorded prior to today's announcement. "The city, as everybody knows, is … transitioning from the city it was to the city it might be, and I believe that this I-HACK is really a call to action for myself and other people in the community to get behind the initiatives of the primary assets in Erie, which are focused on transforming their own businesses and transforming the city.
"I am especially pleased today to be part of this initiative, and it's my own personal and my family's call to action to help Gannon in meeting this initiative and I am very confident this kind of work will create a new ecosystem for the city of Erie," he said.
McCormick, who is a member of Gannon's Board of Trustees, is the retired president and CEO of Wisconsin Distributors, Madison, Wisconsin. He is also a member of the board of the Erie Downtown Development Corp. and Lake Erie Rubber and Manufacturing.
This is the third private donation to I-HACK this month. Stacy Juchno '98 donated $100,000 two weeks ago to create the Juchno Cyber Innovation Fund to assist with faculty recruitment, faculty and student research, and industry-focused innovation. On Friday, an anonymous donor also made a significant gift to that fund. Those two donations are being matched by the university to create a $500,000 endowed fund that will be leveraged through a $1 million matching campaign to drive industry-academic innovation in downtown.
"Pierre's roots in Erie run deep and his family's contributions to this community and Gannon University are transformational and assure that the McCormick family legacy will influence yet another generation of Golden Knights in Erie, and beyond," said Keith Taylor, Ph.D., president of Gannon University.
"His gift today reflects his confidence in our university as an alum and a board member. It will accelerate the development of our cybersecurity programs and the building of our I-HACK as critical assets in Erie's economic ecosystem. For that, we are sincerely grateful," Taylor said.
Walter Iwanenko, Ph.D., vice president for Academic Affairs, added: "Pierre understands how I-HACK contributes to the local economic fabric by creating a dynamic space to live, work, play and learn -- fostering entrepreneurship, attracting new businesses to the region, developing exceptional talent, and keeping that talent here in Erie.
"Pierre is not only thinking about the future, he is taking action," Iwanenko said. "His gift will not only transform the lives of students, it will inspire transformation in Erie and Gannon University."
-