Getting Married

Marriage Preparation: Beginning your life together

The Catholic Church's hope for engaged couples is a strong, Christian marriage. Our preparation programs are designed specifically to help couples grow in their understanding of marriage as a sacrament, a sacrifice and a lifelong commitment. True joy in a Christian marriage is found with the union of husband, wife, and God.
Click the image below
for a full-sized, printable PDF summary of the five steps to the marriage preparation process.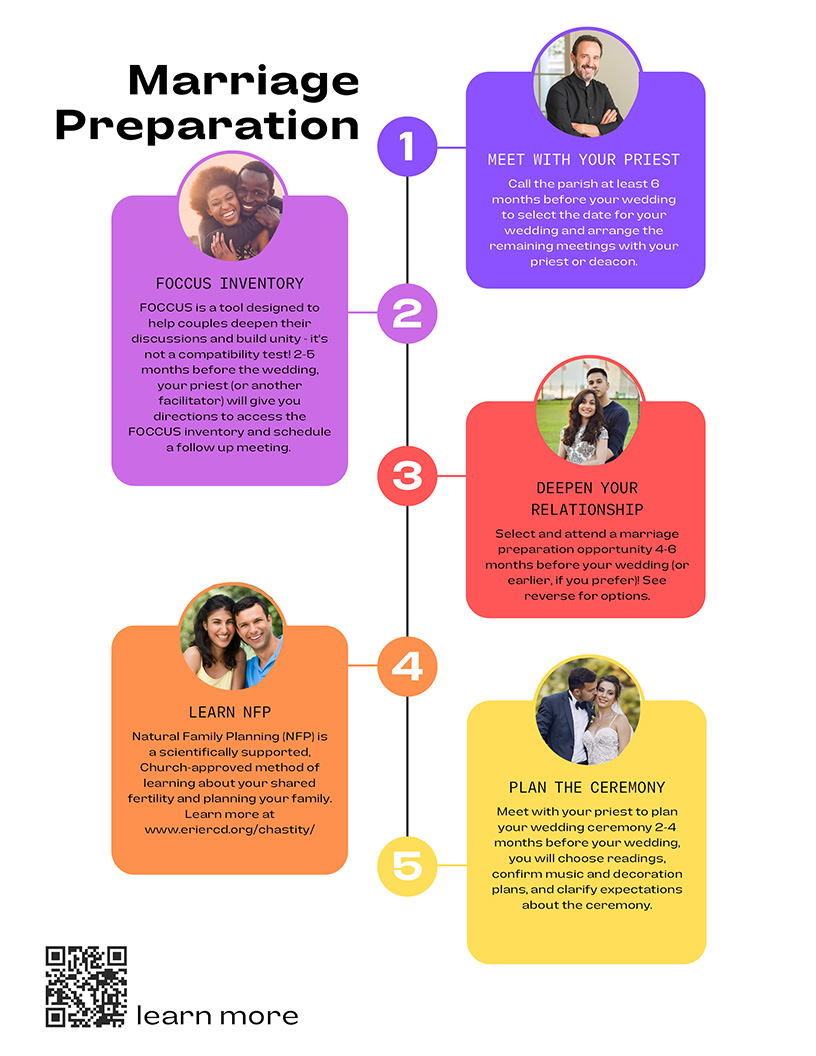 Contact your parish and make an appointment with the pastor before selecting your wedding date. Following a conversation about your decision to marry, there will be some important documents to complete and sign.
Complete the FOCCUS inventory. Under the direction of a trained facilitator (priest, deacon, or married mentor couple), you and your fiancee will complete a questionnaire used to help you think about the similarities and differences you will bring to your marriage. FOCCUS is a tool, not a test, designed to encourage you to journey deeper into the place where insights are found. Visit www.foccusinc.com for more information.
Select and attend a marriage preparation retreat from the schedule where useful tools and practical wisdom lead to building a strong marriage relationship. Unsure of which preparation experience is right for you? Click here for a helpful chart to navagate your choices. Choose from the following:
Learn about Natural Family Planning (NFP). Take some time to learn about the healthful, scientific and spirituality nourishing method of planning or postponing pregnancy. Choose and attend a class together to make this effective method of fertility awareness an integral part of your marriage. NFP classes are offered in various locations throughout the diocese. Visit the Diocese of Erie Chastity page for more information.
Plan your wedding liturgy with your priest or deacon. By planning your wedding ceremony together, you help to make your wedding day as beautiful and memorable as it should be. Your choice of readings, music and prayers will symbolize the commitment you are making, and give witness to the sacrament of marriage.
Our warmest congratulations and best wishes to both of you as you embark on this new chapter of your lives. May God bless you during this special time of preparation.
Kate Wilson
, Director
Family Life Office
429 E. Grandview Blvd.
P.O. Box 10397
Erie, PA 16514-0397
Phone (814) 824-1261 • 800-374-3723