CATHEDRAL PREP, VILLA MARIA ANNOUNCE 'GAME-CHANGING' TUITION ASSISTANCE PROGRAM
01/10/2019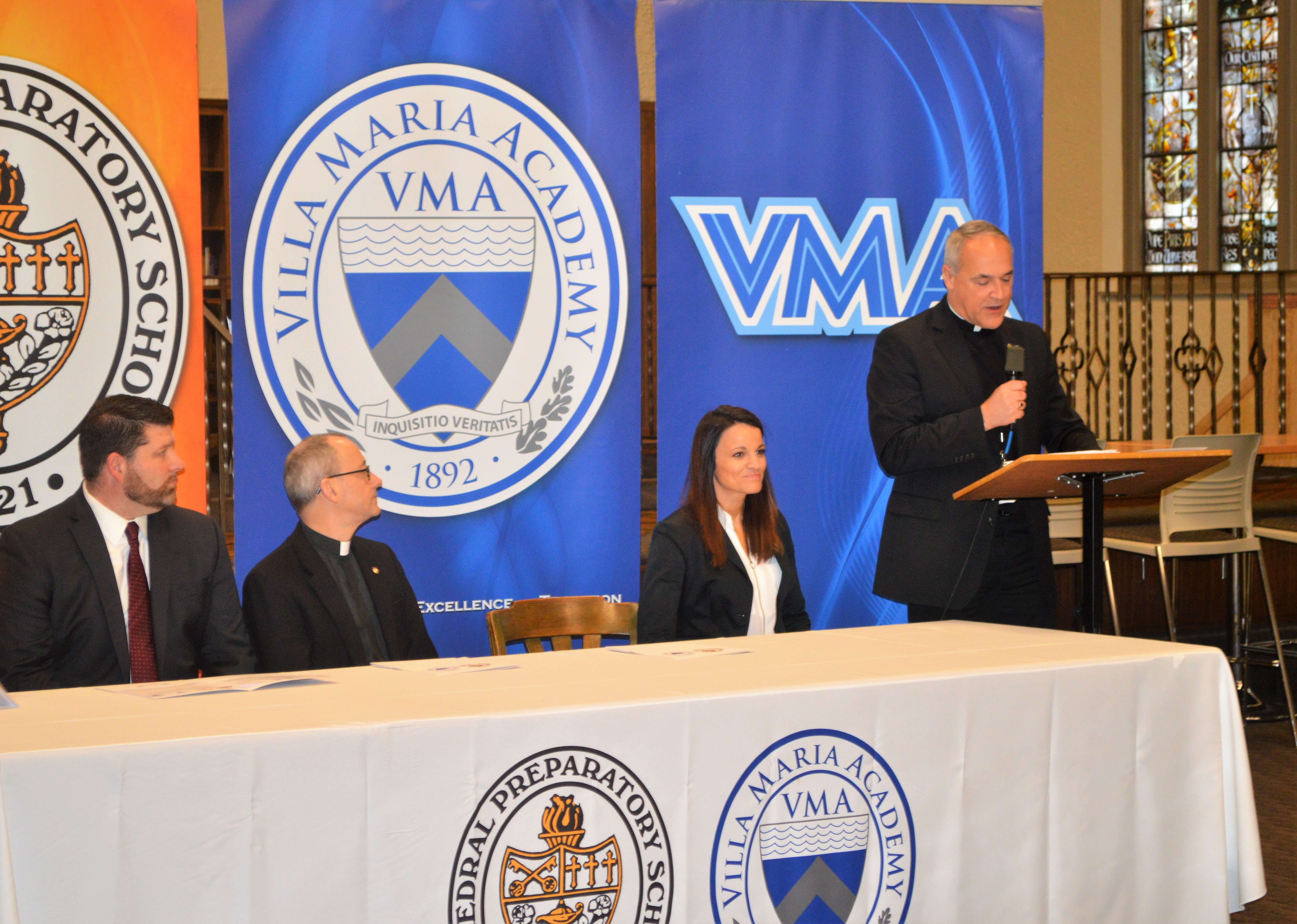 Erie's Cathedral Preparatory School and Villa Maria Academy have launched what the Catholic high schools are calling a "game-changing" tuition assistance program.
The Catholic Elementary Scholarship Program will give any eligible graduate of a Catholic elementary school within the 13-county Diocese of Erie a $3,000 scholarship to attend Cathedral Prep or Villa, beginning with the eighth-grade graduating class of 2019, Father Scott Jabo, president of both schools, announced Thursday.
The scholarship is renewable for four years, for a total value of $12,000. Current tuition at both schools is $9,825 per year; the scholarship would lower tuition to $6,825.
"The Catholic Elementary Scholarship Program is a huge win-win for Catholic education in the Diocese of Erie," Father Jabo said. "Not only does this scholarship program provides funds to make a prep or Villa education more affordable for families who have already made sacrifices for Catholic education in our Catholic elementary schools, but it provides an added incentive to families to attend one of our Catholic elementary schools. I am deeply grateful to the many benefactors whose generosity has made this scholarship program possible."
Catholic Schools Superintendent Jim Gallagher said he's hopeful that many students will benefit from the new initiative.
"Father Jabo and his team have developed a creative way to strengthen Catholic education with an eye toward increasing enrollment for Cathedral Prep and Villa Maria Academy as well as the local Catholic elementary schools," Gallagher said. "This is a great way to honor those families who have make financial sacrifices to send their children to Catholic schools."
The scholarship program is funded through an endowment fueled by donors who have included Cathedral Prep and Villa Maria in their estate plans or made outright cash gifts, according to a news release from the schools. The endowment now stands at $12 million and is expected to continue to grow, the schools said.
More information:
To be eligible for the Catholic Elementary Scholarship Program, a student must be enrolled in a Catholic elementary school before the start of their eighth-grade year, must graduate in good standing from a diocesan elementary school, must be accepted by Prep or Villa, and must apply for financial aid through the Prep and Villa tuition assistance program, FACTS.
Current Prep and Villa students who are graduates of a diocesan elementary school and who have attended either school since their freshman year are also eligible if they applied for financial aid through FACTS for the 2018-19 academic year and if they apply through FACTS for the 2019-220 year.