CREATING A SPIRITUAL AND SOCIAL CONNECTION IN CATHOLIC SCHOOLS
By Martha Ann Larkin
05/15/2023
It is a known fact that children and teenagers spend more time at school than they do at home. While there, students learn necessary academic skills and how to interact with others in a social setting. Students will inevitably face many challenges that require guidance. Fortunately, priests and school chaplains in the Diocese of Erie help students navigate difficult educational and life lessons.
Priests who work in Catholic schools serve in a variety of roles, ranging from offering Masses to attending extracurricular events. They are tasked with creating a vibrant faith community for their students, whether kindergarteners or high school seniors.
When discussing their roles, the priests who work with schools in the Diocese of Erie highlighted the importance of developing authentic relationships with students; being present for students enables them to foster positive attitudes toward religious teachings.
Father David Whiteford, the school chaplain of Our Lady of Peace School in Erie, emphasized he must be attentive to his K-8 students.
"Really, all students want is for you to pay attention to them; the younger ones are just much more honest and forthright about it! Everyone wants to be known, and everyone wants to be seen in some way, no matter their age. Being attentive is important whether they are 9 or 90," Father Whiteford said.
Working as a school chaplain has required him to become familiar with various students' interests, such as video games, playing sports and creating art. He admitted that keeping up with the latest trends can sometimes be challenging.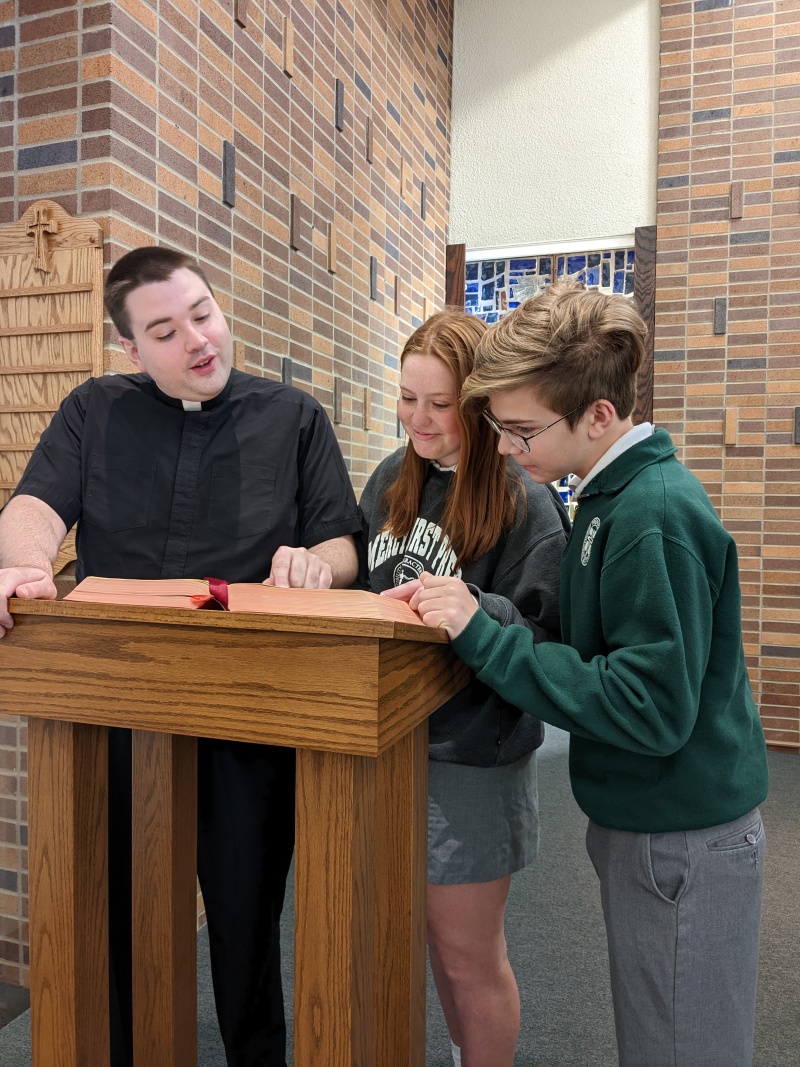 Yet, Father Whiteford is mindful of how students need time to develop their faith, stating, "One of my biggest challenges is trying to present the faith in a way that doesn't drive them away. A lot of kids have a misinformed understanding of what the church actually teaches, says or believes. I try to be gentle-handed and lead them into it thoughtfully."
Father Ian McElrath noted how "showing up" is vital to building relationships with high school students. A school chaplain at Mercyhurst Preparatory School in Erie, Father McElrath underscored how important it is to be visibly present so students know he is always there for them.
"Older parishioners are generally going to come to you to seek guidance, whereas most teenagers will not," he said, pausing before continuing.
"You must make some connection with them first. Just showing up is crucial to establishing such connections. They definitely notice when you are present at lunch every day or on the sidelines of every basketball or football game, not just the all-school Mass; these students are more likely to say 'hello' — even if they never have before, especially upperclassmen — because they have seen me around. That allows me to get to know them better," said Father McElrath.
He joked that sports rosters and playbills are especially helpful for putting names to faces. Further, he explained that relationship-building is crucial.
"For many of these kids, I am the only priest they may see regularly. I am conscious of that," he said.
Father McElrath reflected, "I strive to be a priest who they have come to know as, hopefully, a somewhat rational and sane person they are willing to listen to momentarily."
He hopes students can make a more human connection by saying hello, which may lead to meaningful conversations that make students more receptive to the Catholic faith.
Father Jason Feigh has served as the school chaplain of Cathedral Preparatory School for nearly a decade. He, too, pointed to the importance of relationships as a way of connecting his high school students to their classmates and the Catholic faith community.
"Since the pandemic especially, they're so engaged in technology, media and the world, which is good because God is in the world. The matter becomes: how do you see God in the world? It is through relationships. Exploring faith through the lens of our relationships is one way we can accomplish this," Father Feigh explained. Throughout his chaplaincy, Father Feigh has helped provide many service projects and religious retreat opportunities to encourage such exploration.
Father Feigh highly treasures the relationships he has built as a school chaplain — especially when they continue post-graduation.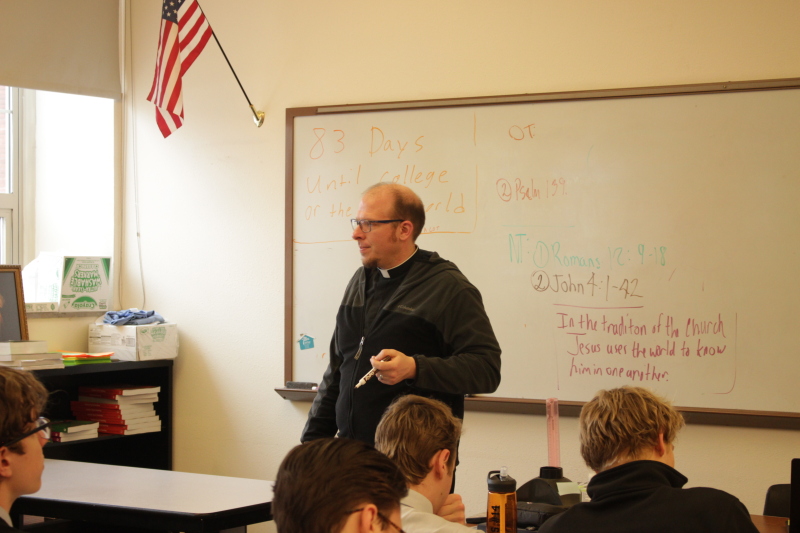 "I'm blessed now to see some of these relationships blossoming from high school to college, then college to young adulthood, into marriages. It's a privilege to be there for the good times of their lives as they've grown. The best part is to go on life's journey and share the moments when they have seen and felt God with them."
Father Feigh paused and further summarized his unique role as a school chaplain, stating, "It's not about seeing the fruits of your labor but seeing that this faith is obtainable, accessible to them. Faith is not just something 'out there,' but something internalized that they can share with others around them. It's about planting the seed of faith and trusting that the Lord will continue to work through them. I would not give up this role for anything in this world."
-