DIOCESAN FIFTH-GRADERS GET CLOSE TO NATURE
Mary Solberg
10/26/2018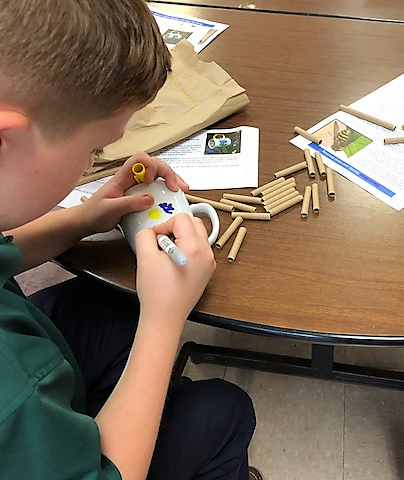 About 250 fifth-graders from Catholic schools in Erie County gathered Oct. 17 at Our Lady of Mount Carmel School to create homemade bee homes using ceramic cups and cardboard tubing. Mason bees, which are effective pollinators, lay their eggs in the small tubes and prepare to pollinate. The project is an effective way to ensure a healthy bee population and environment.

The day also included a Mass and a presentation by Sea Grant Pennsylvania. It was the culminating event of a three-year science project for fifth-graders called "Care for Our Common Home," named after Pope Francis' Laudato Si´encyclical that called for all people to protect the environment.

In the first two years of the project, students used specially made science kits in their classrooms, and visited Asbury Woods Nature Center in Erie to get hands-on experience in nature. The Thomas Lord Charitable Trust provided a grant for the program.

"Being out in the field and exploring helped expose these students to nature and the interdependence of all life," said Kim Lytle, director of curriculum for diocesan schools.
-