DOROTHY DAY'S GRANDDAUGHTER SHARES LESSONS LEARNED
10/12/2018
Kate Hennessy is a self-described storyteller. And who better to tell stories about than her grandmother, Dorothy Day, the founder of the Catholic Worker Movement?
"I like to speak about what it's meant to be my grandmother's granddaughter and the challenges she has put in front of me," Hennessy told nwpaCatholic.com in a telephone interview before her Oct. 9 talk at Mercyhurst University in Erie.
Day, who died in 1980, is on the path to sainthood, holding the title "Servant of God" in the Catholic Church. Pope Francis singled her out as one of four "great Americans" when he addressed Congress in 2015.
Hennessy was only 20 when her grandmother died, but she had come to intimately know the woman who many consider to be one of the most influential social activists of the 20th century. The cause for her sainthood, Hennessy says, is "a paradox."
Until her conversion to the Catholic faith, Day lived a bohemian lifestyle in the early 1900s, having had an abortion and then giving birth to a child out of wedlock. She came to serve the poorest of the poor through the pacifist Catholic Worker Movement that combines direct aid for the poor and homeless with nonviolent direct action on their behalf.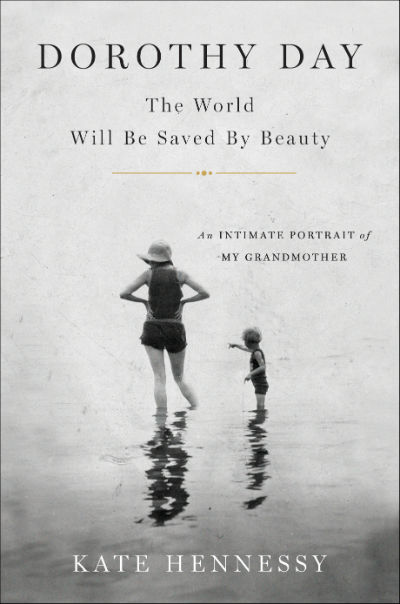 "A lesson I learned from my grandmother was how to live with paradox," Hennessy says. "On one hand, I absolutely believe she was a saint. But what does that mean? I don't know. She believed in mystery. That was very important to her spirituality."
Historians, theologians and academics all have researched and examined Day's life, but it wasn't until 2017 that the public got her family's viewpoint through Hennessy's biography, Dorothy Day: The World Will Be Saved by Beauty.
Hennessy says it was "a daunting task" to take on the role of her grandmother's biographer. In her talk at Mercyhurst's Mary D'Angelo Performing Arts Center, Hennessy shared what it was like to pull together her memoirs following the death of her own mother, Day's daughter, Tamar.
"I really wanted to show her [Day's] life in it full array, not cherry pick," Hennessy says. "What I wanted to do was to really show her in all of her complexities, not just a cardboard saint or a plaster saint, or even as someone who was reviled by some people. That's not right either. This is a much more nuanced story."
When Hennessy was 16, living with her family in Vermont, she started spending more time with Day in New York City, where the Catholic Worker Movement was founded. Being with Day in her own milieu challenged Hennessy and seems, she says, to offer lessons for today's world, with all of its turmoil.
"Right now, I can hear her voice saying she came to believe that perseverance was one of the greatest virtues," Hennessy says. "It's the idea of not giving up, seeing what you have to do and keeping at it even though you might not see it yourself."
While sharing her book throughout the country, Hennessy says she has met many individuals who are working for justice person-by-person or parish-by-parish, like her grandmother.
"That gives me a great deal of hope," Hennessy says.
-