ERIE SERRA CLUB NAMES 2021 HONOREES
Nicholas Constantino
06/14/2021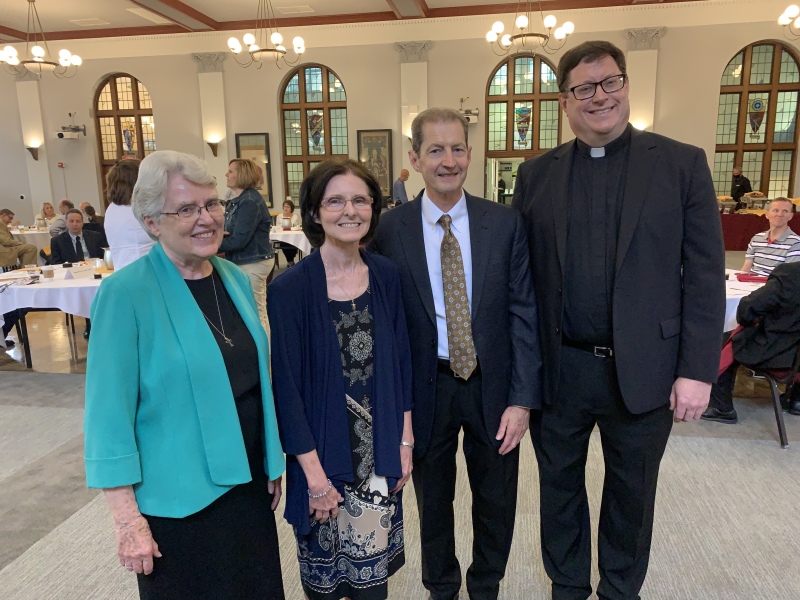 The Serra Club of Erie held its annual Mass, installation and dinner at Gannon University on Tues., June 8, during which members presented their annual awards for outstanding priest, sister, deacon, and layperson. Mass was held at Mary, Seat of Wisdom Chapel, followed by a dinner at the Waldron Center. The four honorees were: June Klins, Layperson of the Year; Jerry Sobrowski, Deacon of the Year; Sister Patricia Whalen, RSM, Religious of the Year; and Father Rich Toohey, Priest of the Year. During the ceremony, club member David Wayman introduced each candidate, citing the importance of their work to the club and to the community.
The first recipient was June Klins. Klins worked as a math tutor through the Northwest Tri-County Intermediate Unit for 25 years before turning to editing and publishing The Spirit of Medjugorje Newsletter in 2002. In addition to publishing, she also is the head of Divine Mercy for Lost Souls, an apostolate focused on praying for people who are suicidal and those who have committed suicide.
Deacon Jerry Sobrowski worked as an engineer for the Lord Corporation for over 30 years and was ordained as a deacon for the Diocese of Erie in 2004. He served at St. Luke Parish until 2017, at which time he was assigned to Our Mother of Sorrows Parish. In addition, he is also involved in several ministries, including confirmation and faith formation.
According to Wayman, Sister Patricia Whalen "…has made a full and rich gift of her time and life, and I'm only able to provide a few brief highlights of her work and accomplishments." Sister Pat taught at St. George School in Erie and was a teacher and principal at St. Patrick School in Franklin. Beginning in 1970 and continuing to the present, she has played an important part at Mercyhurst University where she has held positions including associate professor of education, assistant academic dean and registrar. She also has served as the vice president of the Sisters of Mercy Erie Regional Community and is currently on the leadership team of the Sisters of Mercy of the Americas New York Pennsylvania West Community.
Father Rich Toohey, pastor of Our Lady of Peace Parish, Erie, was honored in part because of his leadership during the COVID-19 pandemic.
"Father Rich and the staff at OLP stepped up their game and created an online presence to help parishioners stay connected to their faith and their parish," Wayman said in presenting the award. Using social media, "they created and presented livestreamed Masses and liturgies, prayer services, educational services, and did the best they could to keep our flock together." Father Toohey and the parish received national recognition for their efforts at the Online Parish Excellence Summit last November.
The Serra Club of Erie, founded in 1960, like its companion clubs across the country, is dedicated to supporting and encouraging religious vocations. Learn more about the club at www.serraerie.org.


-