HELPING HANDS GALA SET FOR OCTOBER 9
Anne-Marie Welsh
09/20/2021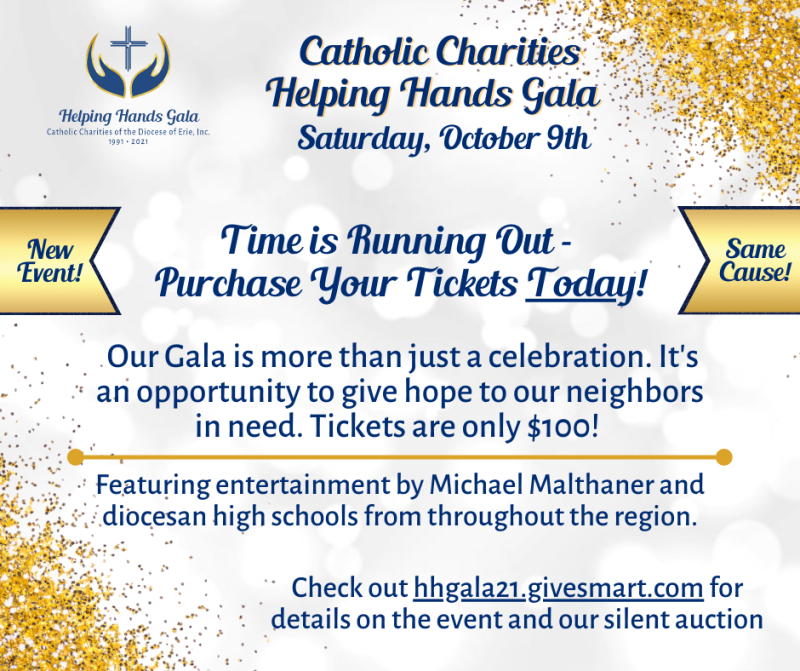 People always talk about wanting to make a difference in the world. Catholic Charities of the Diocese of Erie has planned an evening to help them do just that.
"I think people want to join together in community to recognize all the good that is done in our diocese," says Ann Badach, executive director of the organization that serves people of all faiths in a 10,000-square-mile region stretching across northwest Pennsylvania. While acknowledging the many challenges brought about by the pandemic, she is looking forward to the moment of celebration.
"Bishop (Lawrence) Persico and I both believe there is much to celebrate this year — safely of course," she says. "We want to acknowledge and thank the many people who are helping us continue our charitable works while we also address the unexpected needs as a result of COVID-19."
People will have two options to participate in the gala planned for Saturday, Oct. 9. Doors open at 6 pm for those opting for the in-person event at Gannon's Yehl Ballroom.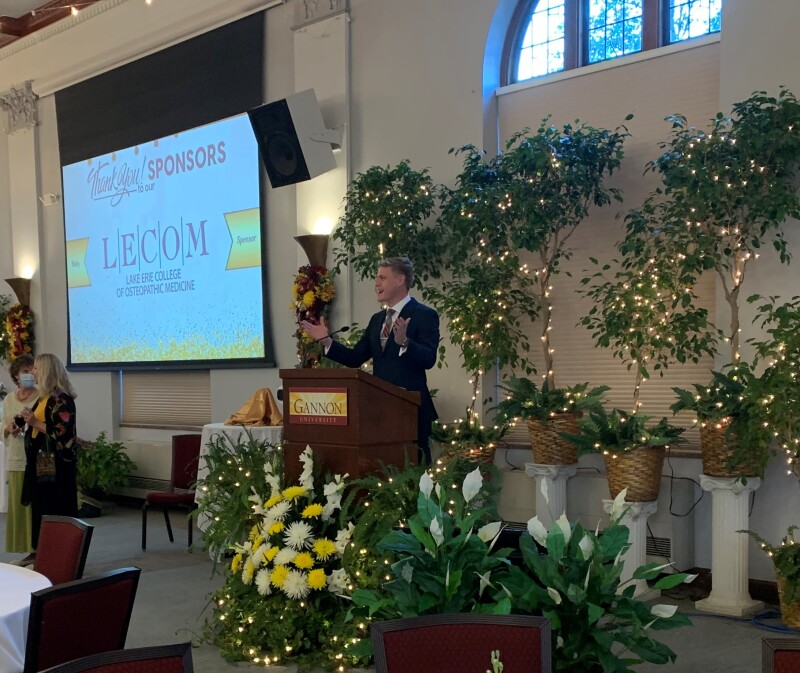 Those registering to participate from the comfort of their own homes via livestream can tune in at 7 pm through a link at www.eriercd.org/charities. ErieNewsNow reporter Ethan Kibbe will serve as master of ceremonies.
The lively evening, featuring both Bishop Persico and Badach, also will include entertainment from several diocesan Catholic high schools. Deacon Dick and Victoria Brogdon of St. Jude Parish, Erie, will receive this year's Helping Hands Award.
"Deacon Dick and Victoria were named our Helping Hands honorees in 2020, but were never publicly recognized because we had to cancel the event," Badach says. (The couple is featured on page 24 of the October 2021 edition of Faith magazine.) Catholic Charities also will honor all those supporters who made a donation to its COVID-19 Emergency Relief Fund.
The fund was established at the onset of the pandemic.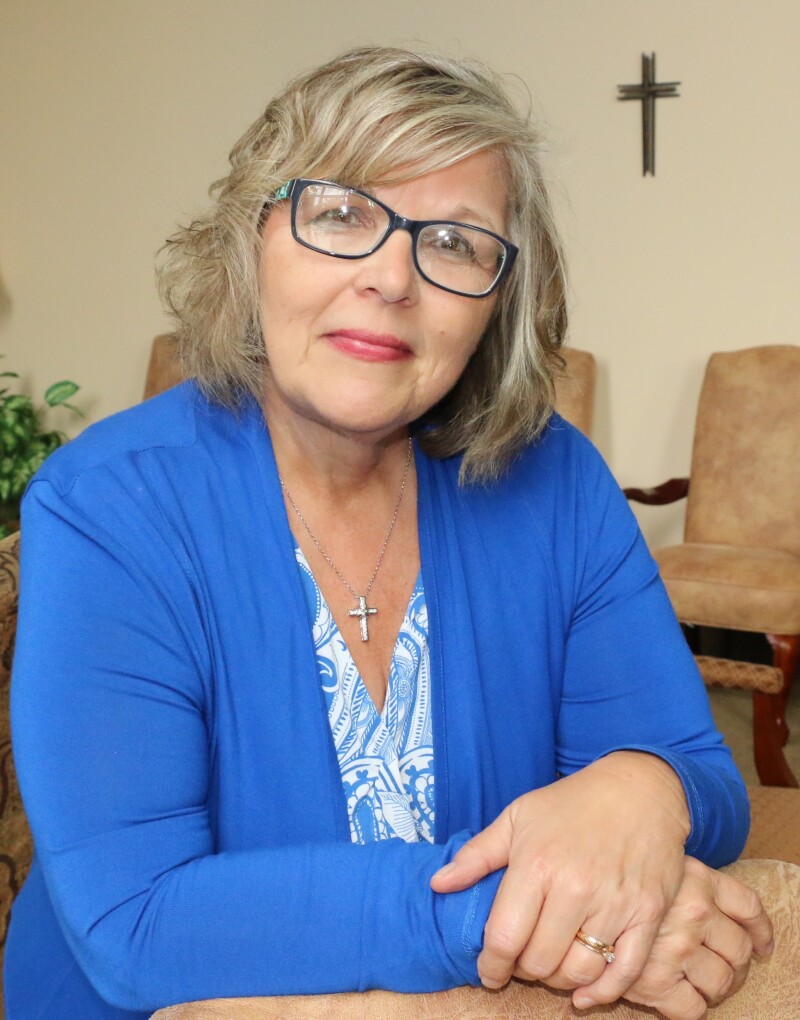 "We in Catholic Charities have watched the world continue to struggle in many, unexpected ways," Badach observes, "whether through job loss, school shut-downs, or as a result of the extraordinary suffering or even death of friends and loved ones who contracted COVID-19. Many also continue to experience systemic family poverty, joblessness or health insecurity. We have seen the number of people in need rise dramatically." The Emergency Relief Fund meant pastors and agency directors throughout the diocese could offer direct financial assistance to people who came to them for assistance.
Bidding for the Helping Hands Gala online auction will open October 1 and be available until Oct. 9. All are invited to peruse the offerings. Among the highlights:

Dinner for six with Bishop Persico and Catholic Charities Executive Director Ann Badach at the bishop's historic Ninth Street residence.

A night on the town including a $200 gift card for dining and an overnight stay at the Sheraton Erie Bayfront Hotel

A four-hour rental of a 10-passenger limousine.

Ski and snowboard lift passes, golf, a portrait session, gift cards, lottery tickets additional overnight stays and much more.
Every one of the Catholic Charities agencies and boards in the diocese donated items for the auction, which features 40 options. Another approximately 40 organizations are sponsoring the gala including top supporters PNC Bank, Highmark Blue Cross Blue Sheild and AHN Saint Vincent Hospital.
"Many organizations just like ours who rely on fundraising events had to cancel their events in 2020," Badach says. "The impact could have been very consequential, but our friends and supporters stepped up in a big way in 2020. Even without a fundraising event, they gave from their hearts. It literally kept the doors open for those who rely on us for help."
But Badach is looking forward to this year's event with even more hope.
"We believe it is important to recognize and acknowledge the role-models of charity within our own community who do extraordinary things by offering a helping hand to the less fortunate," she says. "Those who participate make it possible for Catholic Charities to assist our affiliate agencies, parishes and people in need throughout our 13-county diocese. And that is something worth celebrating."
Register early! The auction, ticket/registration information and more details about the gala are available here.

-