PASTORS BEGIN OFFERING CONFIRMATION AS PUBLIC WORSHIP RETURNS
Anne-Marie Welsh
06/23/2020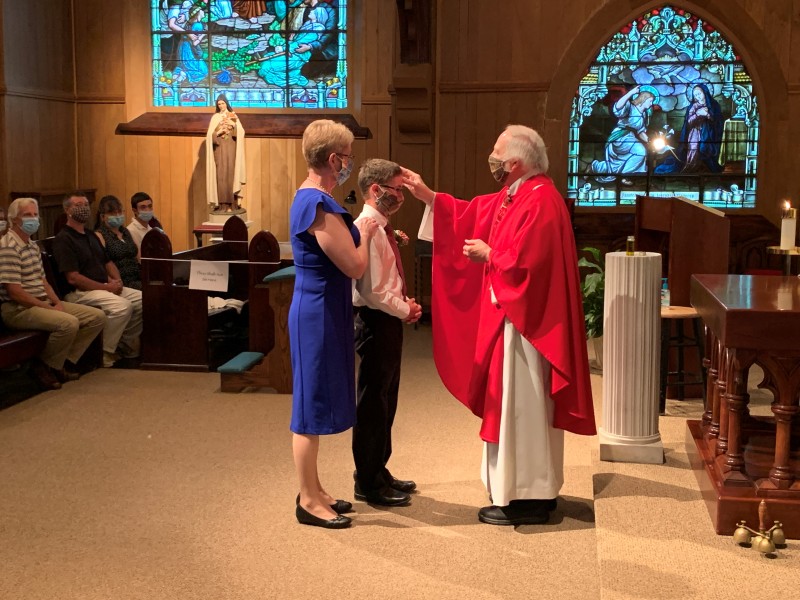 "I liked having Father do the confirmation," said Andrea Walker, a rising senior at Fort LeBoeuf High School in Waterford. "It made it more personal. The four of us, including Father Nowak, will always have that to remember."
Walker was referring to the June 22 ceremony at St. Anthony of Padua Parish in Cambridge Springs, when she and two other high school students were confirmed by their pastor, Father Mark Nowak. Students at nearly 80 parishes in the diocese are receiving the sacrament from pastors, each of whom were given faculties for this purpose because so many confirmations had to be postponed due to the pandemic.
The Monday evening gathering in Cambridge Springs was essentially a private Mass for the candidates, their sponsors and family members.
"I am honored and humbled to do this tonight," Father Nowak said in his homily.
Calling it an important day for the church, the parish, the families and the candidates, he also noted the event was "a great opportunity for giving thanks to God for the gifts he has given us."
Isaac Levis and Robert Marcus Moats were the other two candidates who joined Walker when it was time to stand and profess their faith. They selected the names Christopher, Lawrence and Veronica, respectively, as their confirmation names.
They had prepared for reception of the sacrament with the help of Marie Marteeny, a volunteer catechist at the parish, and Father Nowak.
During his homily, Father Nowak also reminded the students of the question he asked them each time they got together to study and prepare.
"Where did you see God in your life this past week?" he asked. "I want you to keep asking that question.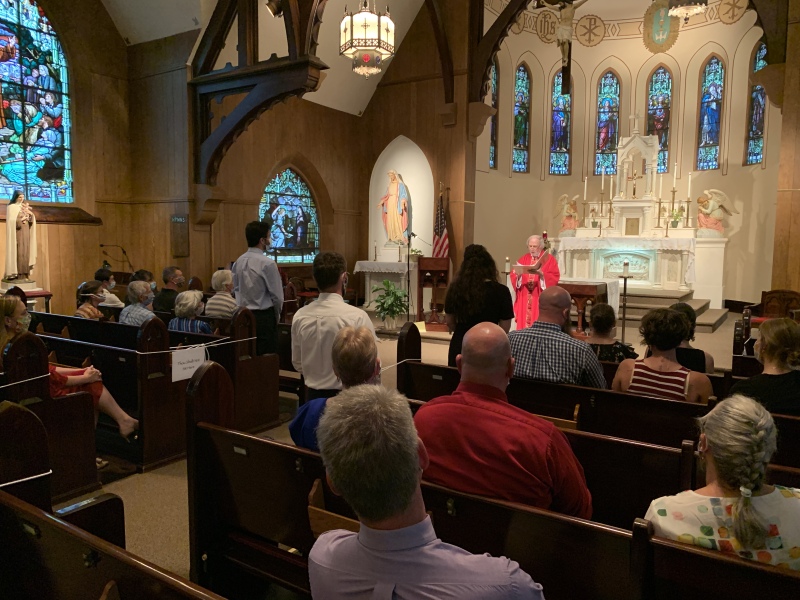 Look for it, expect it and continue to answer that question."
Father Nowak, who began offering a daily Mass open to the public on June 1 — the first day it was allowed since public worship had been halted in March as a result of the pandemic — said people are glad to be back.
Prior to the Mass, he sent out a letter with details of how worship would be handled, and said those who have been coming to daily and weekly Mass "certainly are being careful and following directions." He has seen a slow increase in attendance at Sunday Mass, estimating that about half to two-thirds of his parishioners are now attending again.
Along with a team of volunteers, Father Nowak said it takes about a half hour to disinfect the pews, kneelers, doors and railings after each Mass.
Father Nowak, like many of the priests in the diocese, is taking a patient approach to the return to public worship.

"I am validating the decisions of each parishioner," he said.

Although the parish did not have anyone participate in the RCIA program this year, Father Nowak will now begin planning a First Communion Mass to be celebrated within the next couple of weeks.
-