THERAPY DOGS BRING PAWESOME NEW PARTNERSHIP TO ERIE'S ST. JUDE SCHOOL
Erica Erwin
03/08/2019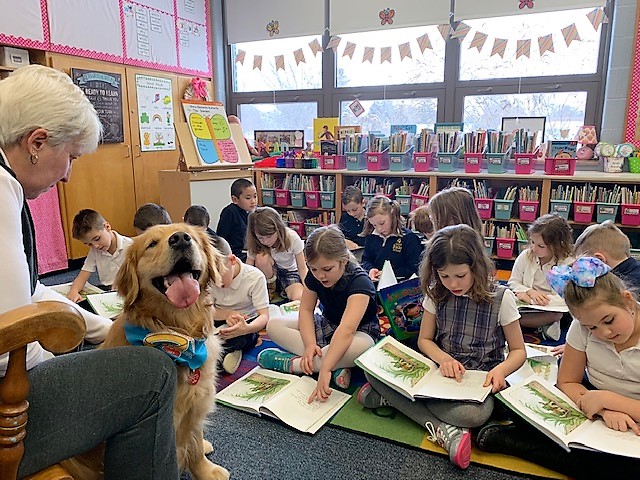 Talon's thick fur enveloped the flurry of little hands that reached out to pet him.

A fluffy 3-year-old Leonberger, Talon is a trained therapy and crisis dog and very much used to attention from little people who weigh half of his 130 pounds.

"He's snuggly!" said Ella Dempsey, a third-grader at Erie's St. Jude School.

Talon is one of several dogs that visit students at St. Jude as part of a new partnership between the school and the Alliance of

Therapy Dogs, an international registry of certified therapy dog teams. The dogs serve as reading buddies to younger students, helping them with fluency and reading aloud. In the middle grades, the dogs help students who struggle with focusing, test taking and general anxiety.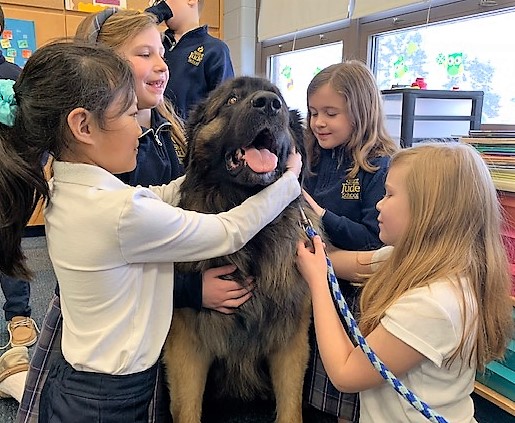 Bringing a trained therapy dog into the classroom "allows (students) to be in a stress-free environment," said Judy Kosik, a guidance counselor at St. Jude. "They feel free to read without being judged. They're in a situation where they don't have to worry about making mistakes. The dogs just love them."

The feeling is mutual. Ella and other students in Judy Abel's third-grade class had written stories, many starring Talon.

"They're writing, writing, writing and not stopping. They want to keep writing, and that's fabulous," Abel said.

Students in Corinne Heard's first-grade classroom practiced reading aloud to another therapy dog, a golden retriever named Mariah.

"It provides the children the opportunity to practice reading aloud and practice their fluency in an environment that is nonthreatening but also exciting for them," Heard said. "The partnership makes for a unique experience because it gives the children a different outlet to practice their reading skills."

The dogs help with behavior and anxiety issues, as well, Kosik said.

"I had two eighth-grade boys (in my office) and I had Mariah in there," she said. "They petted her and were able to go through what happened" calmly.

Erie Catholic Schools plans to extend the partnership to St. Luke and St. James schools soon.
-