UPDATE: RELIC OF ST. JOHN VIANNEY COMING TO ST. PETER CATHEDRAL
Anne-Marie Welsh
05/03/2019
ERIE — As announced in April, the Diocese of Erie will host a significant relic — the heart of St. John Vianney, patron of priests — Thursday, June 6 at St. Peter Cathedral, W. 10th and Sassafras streets. New details about the visit have now been made available.
The day-long event will begin with the relic's solemn entrance into the cathedral at the 6:30 am Mass, celebrated by Bishop Lawrence Persico. The relic will then be on display for veneration through noon.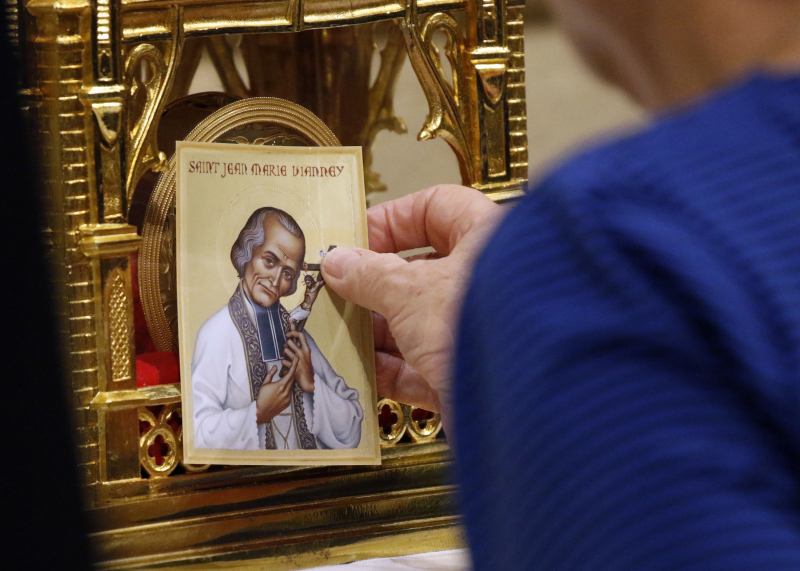 After Mass at 12:10 pm, veneration will continue through 7 p.m., at which time Bishop Persico will offer Mass again, concelebrated with diocesan priests. After the liturgy, a final hour for veneration, along with an hour for personal prayer dedicated to vocations to the priesthood, will be followed by a solemn procession from the cathedral with the relic.
"This is a wonderful opportunity to pray for our priests," said Sister Kathleen Dietz, FSO, who is handling many of the logistics involved with bringing the relic to the diocese. "In this time that is particularly difficult for priests in the diocese, as well as in the church in general, this is one way to show our support for them."
The veneration of relics in the Catholic Church is an ancient tradition dating all the way back to the New Testament. Origins can be found in the life of Christ, such as the moment when a woman was healed by touching Jesus' cloak. The heart of St. John Vianney is a first-class relic, a classification for relics that are the body or fragments of bone or flesh of a saint.
The church has always treated the relics of saints in a special manner, preserving them and often putting them on display for the benefit of the faithful. Venerating a relic usually involves a simple gesture such as kissing or touching the glass case that houses the relic, or simply standing near it in a prayerful attitude, raising the heart and mind to God and praying for the saint's intercession.
"St. John Vianney was a priest for the people above all," Sister Kathleen told the Diocese of EriE-news. "He is known for having spent many long hours in the confessional, through which he brought many back to the church and to a great love for Christ. I'm really excited that this relic is coming so that all of us can spend some time in gratitude to God for our priests and for the example and prayers of St. John Vianney."
Parishes and schools are encouraged to publicize this special event and consider organizing a pilgrimage.
The Shrine of Ars, France, has entrusted the relic of the saint's incorrupt heart to the Knights of Columbus for a national tour in the U.S. Erie will be one of the last stops on the tour. For information on the national tour, please visit https://www.kofc.org/en/events/vianney.html#/.
-