'WE ARE IN THIS WITH YOU.'
Anne-Marie Welsh
04/28/2020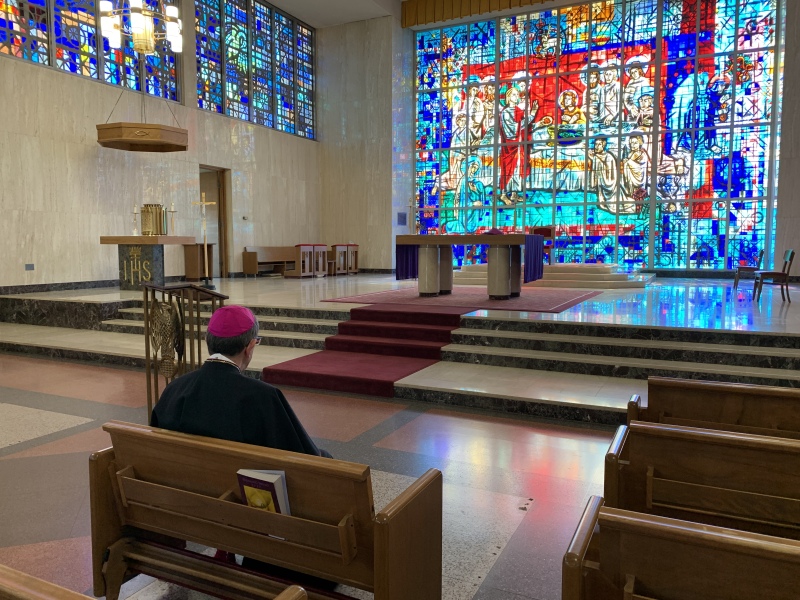 ERIE — It is nothing short of mind-boggling for Catholics to find themselves unable to attend Mass in person.
But as much as they don't like it, most understand and accept the need for it. The moment has led to a deeper understanding of how important it is togather for worship. Some parishes report greater attendance at their daily livestreamed Masses than what they were used to before the pandemic.
For some, however, the suspension of public Masses has been an especially challenging cross to bear. Consider the bride and groom who have had to radically change or even postpone plans for their wedding day. What about the many who were preparing to enter the Catholic Church at the Easter Vigil? Children who were eagerly anticipating First Communion and teens looking forward to confirmation have had to learn unexpected lessons in patience.
Through a collaboration of the offices of Faith Formation and Communications in the Diocese of Erie, as well as the generosity of videographer Joe Ferralli, Erie Bishop Lawrence Persico has created a series of short videos for those who have found themselves faced with postponing or adjusting the reception of different sacraments. He also has prepared a message for people who have had to bury loved ones at private funerals, rather than at Masses surrounded by the comfort of many friends and family members.
Those who find themselves in these situations are encouraged to visit https://www.eriercd.org/faithformation/bishopmessages.html to either hear or read the messages Bishop Persico has created to share his thoughts with each of them.
-