'WHAT A BLESSING YOU CONTINUE TO BE...'
Anne-Marie Welsh
06/20/2022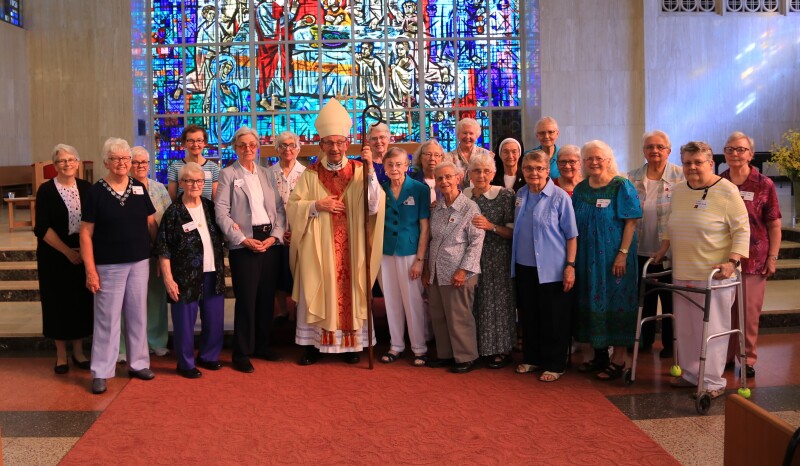 ERIE — "I offer my heartfelt congratulations and gratitude for your life and ministry in faithful service to this local church, the People of God," Bishop Lawrence Persico said in his homily during Mass for sisters who celebrated jubilees in 2020 or 2021 as well as those marking them in 2022. It was the first time since the pandemic began that the sisters were able to gather with the bishop in person for this purpose.
The event honored sisters ranging from Sister Mary Rachel McGuire, SSJ, who celebrated 80 years of consecrated life in 2020, to Sister Linda Romey, OSB, marking 25 years this year.
"Today we gather in prayer to reflect upon a unique gift that is a part of the life-giving church of the risen Jesus: the gift of consecrated life," the bishop said in his homily. "We reflect upon women who have understood and embraced the Lord's universal call to holiness and mission. What a blessing you have been and continue to be for all of us as we celebrate your jubilees."
In his remarks, Bishop Persico also repeated the inspirational words Pope Francis shared on the World Day of Consecrated Life.
"At the end of the Gospels," the Holy Father recounted, "there is (an) encounter with Jesus. It is that of the women before the tomb. They had gone to encounter the dead; their journey seemed pointless.

"You, too, are journeying against the current; the life of the world easily rejects poverty, chastity and obedience. But like those women, keep moving forward, without worrying about whatever heavy stones need to be removed. And like those women, be first to meet the Lord, risen and alive," the Holy Father said. "Cling to him and go off immediately to tell your brothers and sisters, your eyes brimming with joy. In this way, consecrated sisters, is the church's perennial dawn!"

Bishop Persico told the sisters that each of them is celebrated for having abandoned their very lives, "and with deep trust and the recognition of your own human limitations, doubts and struggles — have handed yourselves over to God in the sure and certain hope that comes from the resurrection of Jesus — in order to bring glad tidings to the poor, to proclaim liberty to captives, recovery of sight to the blind and let the oppressed go free."
He concluded by expressing his gratitude for the sisters' example and witness to Jesus, alive among us.

"Encouraged by the gift of your faithful service," he said, "we look beyond our doubts and struggles to walk together in faith, reflecting always the love and mercy of Jesus in our lives."
The evening was organized by Sister Nancy Fischer, SSJ, director of religious for the Diocese of Erie, and concluded with a dinner in the refectory of St. Mark Catholic Center.
-