WILL AI SERVE OR REPLACE HOLLYWOOD'S HUMAN WRITERS ON STRIKE FOR BETTER WAGES?
By Kimberly Heatherington
05/15/2023
(OSV News) — It sounds like a dystopian science fiction plot, or at the very least, a source of nightmare fuel for creative writers: Sometime in the future, humans are replaced by increasingly self-aware exponents of artificial intelligence (AI), who steal away the storytellers' jobs. Jobs that, maybe just a few years ago, nobody would have suggested could be done by a computer program.

That alternative tomorrow, however, may be close at hand.

When the Writers Guild of America (WGA), the labor union that represents film, television, radio and online media writers, went on strike May 2 for the first time in 15 years, among the 11,500 members' demands to the Alliance of Motion Picture and Television Producers (AMPTP) is that any forthcoming contract agreement should "regulate use of material produced using artificial intelligence or similar technologies."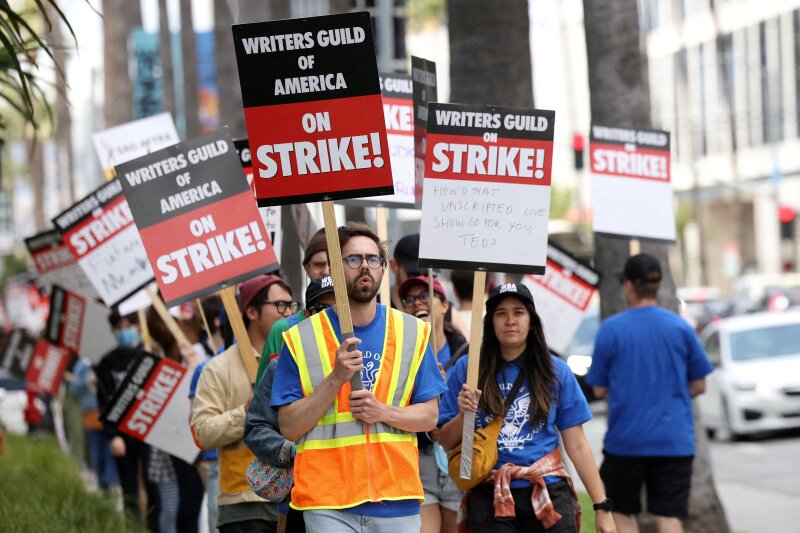 AI uses machine learning algorithms and vast amounts of data to generate humanlike responses to requests. Platforms such as ChatGPT can answer questions, write essays, compose emails, produce poetry — and maybe even write scripts.

"There's plenty of reason to be concerned," said John Behrens, who manages the New AI Project at the University of Notre Dame in South Bend, Indiana, and directs technology initiatives for its College of Arts and Letters. "We're definitely in uncharted territory — both ethically and legally, and operationally from an economic perspective."

While streaming and on-demand services impact delivery modes, entertainment content is still the creative work of the human imagination. However, AI has recently begun to demonstrate its own writing abilities.

"It feels qualitatively different now because it's generating text in ways that only humans have been able to do in the past," Behrens told OSV News. "These text generation or language generation models are very good at copying how humans write and talk. And so it's not at all out of the question that studios are already investing in how to do this."

WGA distinguishes between using AI for research versus creative purposes. "They're OK about some uses," Behrens explained, "but they make this hard line about when something is literary material that can only be generated by a human, versus other kinds of material."

Behrens said the potential ethical impact is an issue to which the Catholic Church has spoken, in other contexts.

"I think it raises a couple of issues from the perspective of Catholic thought, one of which is the nature of the dignity of people," Behrens said. "Since this has always been something that only humans can do, then how do we think about the dignity of humans in that process?"

He added, "Some of what I hear the writers saying is, 'Are we just going to become cogs in a machine?' That's another place where we have repeated calls from the different teachers in the church to make sure that work has dignity," Behrens noted.

The dignity of human labor in economic systems is a theme the popes have consistently addressed from Leo XIII's labor encyclical "Rerum Novarum" (1891) up to the present day. St. John Paul II said, "Workers' rights cannot be doomed to be the mere result of economic systems aimed at maximum profits" in his 1981 encyclical "Laborem Exercens." In the 1961 encyclical "Mater et Magistra," St. John XXIII taught, "Work is the immediate expression of the human personality ... and must not be regarded as a mere commodity." In a 2020 homily on the feast of St. Joseph the Worker, Pope Francis declared, "Every injustice inflicted on a person who works tramples on human dignity."

"Significant technological changes in film and media transform not just the economics of an industry, but also the nature of work within that industry," said Miranda Banks, acting chair and associate professor in the School of Film and Television at Loyola Marymount University, Los Angeles. "When this happens," she told OSV News, "the systems of compensation for that work often need to get re-negotiated."

WGA summarizes the situation very bluntly on its strike homepage: "Writers are facing the most comprehensive assault on compensation and working conditions that they have seen in a generation. The studios have taken advantage of the transition to streaming to underpay entertainment industry workers, including writers in every area of work."

"We've had these key moments that trigger significant shifts," said Banks. "And we have hit one of those moments."

Banks noted the writers want to regulate AI use on projects under their contracts, specifically ensuring "that AI cannot write, or rewrite, literary material. Also, that it can't be used as source material. And finally, that (contract)-covered material can't be used to train AI."

Still, Banks said she doesn't have a great deal of faith in AI as a storyteller. "What we want out of entertainment is human connections. So much of what we search for, in our entertainment, are the kinds of stories that will touch us as humans, and will move us," Banks said. "And while AI might be able to generate content, can it actually tell the compelling stories that inspire us?"

"There is a problem of employment — and sort of taking us out of the equation of writing stories about ourselves," said Jesuit Father Jim McDermott, a WGA member and associate editor at America magazine. "Does it make sense for something that isn't even alive to be telling stories about us?"

Father McDermott joined WGA in 2015 after he was hired to write on a TV show. He sold an idea that ultimately didn't get made, but it revealed to him a lot about the industry.

In a recent article for America, Father McDermott explained that many TV shows hire fewer writers — who work in writers' rooms — for less hours and lower pay, and expect the show runner (manager) to handle the entire production.

"If you want to know what it's like to be a showrunner with a mini-room, talk to a priest who has three parishes. It's similarly stressful. There's just too much for them to do," Father McDermott told OSV News.

"In some ways what we're seeing is about separating the creators of culture from the content," Father McDermott said. "As long as we can keep those things separate, then we don't feel any twinge about what might be happening to those creators."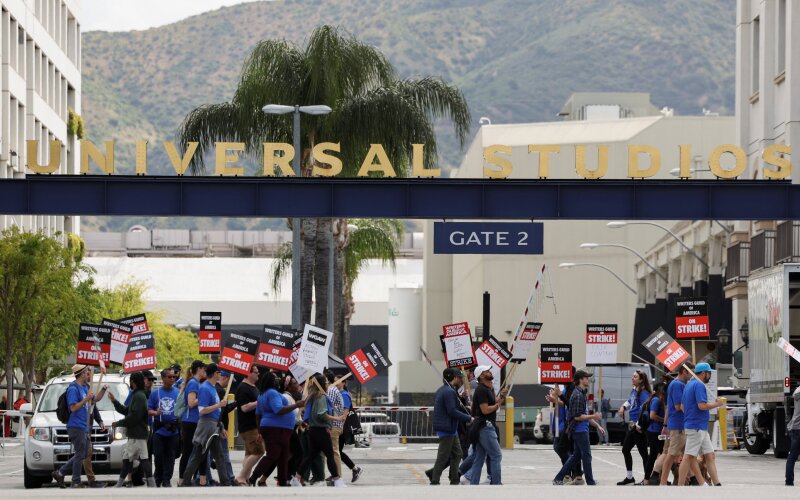 Students from St. Timothy School, a PreK through eighth grade Catholic school in the Rancho Park neighborhood of Los Angeles, are indeed concerned about those creators, and voiced their solidarity with a delivery of letters to the FOX Studios picket line a couple of blocks away on West Pico Boulevard.

"Dear Writer," each form letter began, "My teacher taught us about the Writers Strike in our Performing Arts class. I wanted to show my support." Students then personalized each communication — emblazoned with the "I stand with the WGA" logo — with their own handwritten thoughts.

"AI sucks! I miss (Jimmy) Kimmel (Live)! Writers rule!" said Charlie, who apparently stays up past most kids' bedtimes. J.P. also isn't a fan of artificial intelligence: "Hopefully you are seen as superior to AI." Lauren agreed with demands for a wage increase: "You deserve more money after all the great movies u made!" Malachi encouraged the strikers to "keep fighting!!!"

The 2007-2008 WGA strike lasted 100 days before a bargaining agreement was reached and approved by 93.6% of WGA members.

President Joe Biden in May 8 remarks at the White House weighed in on the strike, calling for the writers to be "given a fair deal they deserve as soon as possible," while noting "the importance of treating storytellers with the dignity, respect and the value they deserve."
-