YOUNG PEOPLE WHO CARE OFFERS SUMMER OF SERVICE, FAITH — AND FUN
Erica Erwin
02/24/2019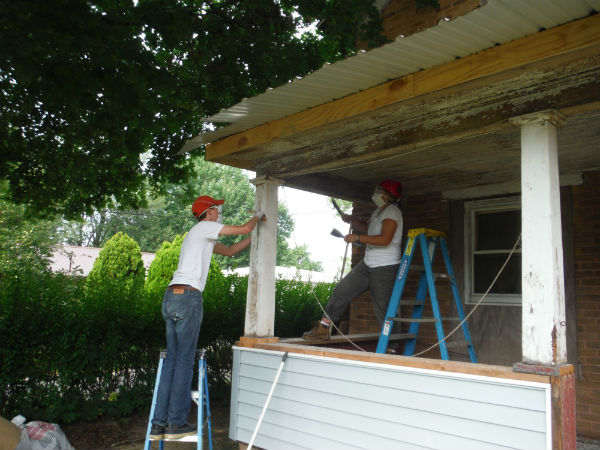 Sister Suzanne Thibault, C.A., has a powerful elevator pitch ready for anyone who asks.
"Come and see what living the Gospel can be like," she says. "Come and see what wealth you can find in simplicity. Come and find what you can receive when you give your all to something."
Sister Suzanne is youth director of Young People Who Care Inc., a Catholic grassroots ministry in Frenchville that works to address the many needs of people living in rural Clearfield County. The organization holds weekend and weeklong retreats during the summer and throughout the year, and it's there, in the volunteering of their time, talents and energy, that participants can encounter God, Sister Suzanne said.
Volunteers might find themselves painting a house, installing a wheelchair ramp, or simply playing bingo with a senior citizen in one of three nursing homes in the region. The aim is both simple and profound: provide whatever help is needed.
In Clearfield County, where many people struggle in economic poverty, that often means providing tangible services – planting a vegetable garden, maybe, or driving someone to a medical appointment. But it can also mean addressing spiritual and emotional poverty as well.
"We're working with the poor, but the definition of poverty that we work with is that if a person has a need that isn't being met, that's the poverty we address," Sister Suzanne said.
In the process, volunteers discover gifts they didn't know they had, including the power of a smile.
"Adults who come find they're living their faith, and that's so amazingly renewing," Sister Suzanne said.
For teenage volunteers, the experience is transformational – and not only because they spend the week or weekend untethered from technology. Days are filled with prayer and service; evenings are filled with recreation and reflection.
"They go home and continue that service," said Christopher Beran, a seminarian with the Diocese of Erie and the director of Catholic Campus Ministry for Edinboro University of Pennsylvania. "They don't have to go across the country or to another part of the world to bring forth the love of Christ to others in service."
Summer retreats are open to teenagers (age 16 and older) and adults, and range in cost from $55 a person for a Friday through Sunday retreat to $250 per person for a weeklong retreat. For families, the cost is $250 for the first person, and then reduces by $50 for each additional person.
For more information, visit http://ypwcministries.com, call Sister Suzanne at 814-263-4177, or email her at bethanyyouthcenter@gmail.com.
-