ADSUMUS SANCTE SPIRITUS
Sheila Grove
11/02/2021
As the church begins the synodal process, the Synod of Bishops has offered this prayer of invitation. Adsumus Sancte Spiritus, meaning, "We stand before You, Holy Spirit," unites the hearts and minds of community of believers in openness to the workings of the Holy Spirit.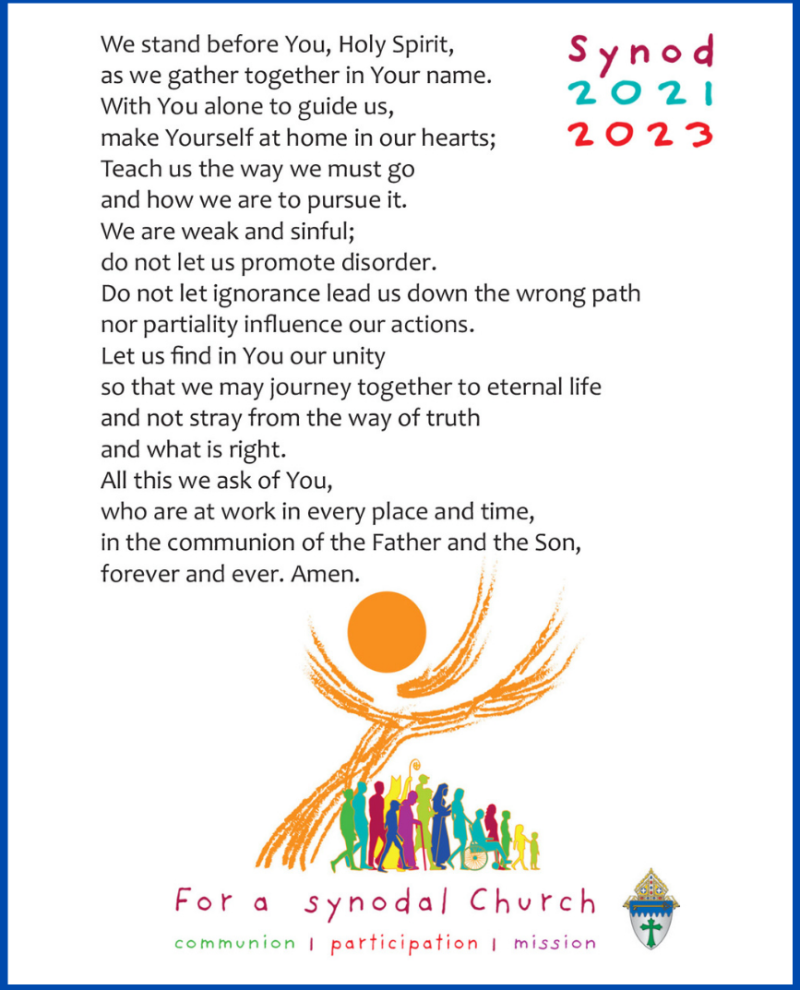 Everyone has an important role in the process, as diocesan organizers, listening session facilitators or participants, and those who will journey more privately by inviting the synodal experience of prayer and dialogue into their homes and communities.
All are encouraged to pray this prayer frequently, alone or in groups, in advance of the listening sessions that will begin in early 2022 and throughout the next two years. Here is a link to a page on the Diocese of Erie website that offers options for downloading and printing the prayer in English and Spanish for personal and parish use.
"The objective of the current synod is to listen, as the entire People of God, to what the Holy Spirit is saying to the church. We do so by listening together to the Word of God in Scripture and the living Tradition of the church, and then by listening to one another ─ especially to those at the margins ─ discerning the signs of the times. In fact, the whole synodal process aims at fostering a lived experience of discernment, participation, and co-responsibility, where a diversity of gifts is brought together for the Church's mission in the world.
In this sense, it is clear that the purpose of this synod is not to produce more documents. Rather, it is intended to inspire people to dream about the church we are called to be, to make people's hopes flourish, to stimulate trust, to bind up wounds, to weave new and deeper relationships, to learn from one another, to build bridges, to enlighten minds, warm hearts, and restore strength to our hands for our common mission. Thus, the objective of this synodal process is not only a series of exercises that start and stop, but rather a journey of growing authentically towards the communion and mission that God calls the church to live out in the third millennium." ─ from the Official Handbook for Listening and Discernment in Local Churches published by the Secretary General of the Synod of Bishops, Sept. 2021.
-